August 10, 2006
…..because that's what happens when you spend a week with some of your favorite people on the planet.


I just spent the last 7 days with my dearest friends and we laughed so much that we put the adult diaper industry out of business. We had to buy them by the case load. I'm not even kidding.

This was definately one of the most funfilled weeks I've spent so far in my wee short life (I'm only 25 for petesake….blink blink blink). And we didn't even have to leave the house. Although we did take in the zoo, a water park and a wee bit of shopping, the best moments were when we sat around the kitchen table, laughing until our sides nearly split. And a couple of us peed our pants, me not being one of them of course ('cause that's gross). And I know someone did because my pants were wet when I got up off of the chair, so obviously I sat in someone's pee puddle. Again, I'm not even kidding. Insert some evil laughter here.

We ate like pigs queens and although my culinary skills suck ass aren't great, I did manage not to poison my friends or give them burning diarreah when it came time for me to cook. Penny made some fabulous spagetti, wings and nachos and she tops EVERYTHING with some kind of gravy. Picture is shown above (Although I'm not sure why there's a picture of a puppy on it and the word 'puppy' at the bottom). I lapped that shiznat up big time. Ang cooked for us too and holy shit, I proposed to her and we're eloping next week sometime. Ang sweetie, mark your calendar.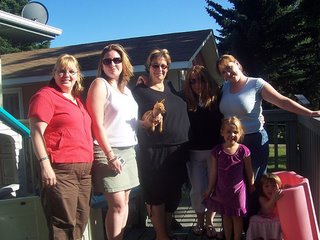 We had some laughs that involved Coolwhip, pies and clown makeup but unfortunately I can't go into detail because what happens in Calgary stays in Calgary. Sorry that's the rules. *Wink*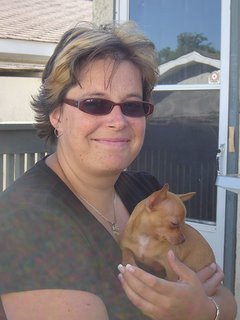 We took so many pictures that all of our cameras broke. I mean honestly, a camera can't take it after it snaps like 7834 photographs. Again, I'm so not kidding. Like I would make up stuff. Right.

We even played dress up and wore $1.99 hooker makeup at one point and then I was forced to make a licquor store run (since I don't drink but the evidence pictures might make it seem otherwise) in said getup and then the police came and called the nut ward at the hospital and then some guys came with a white jacket and took me away and then my friends dressed up like ninja's and broke me out of that crazy prison where the guards all look like Beetlejuice. How freaky is that? All true folks, all true.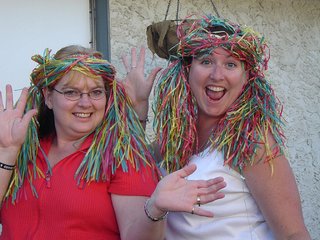 As I drove my sista's to the airport this morning at the asscrack of dawn 5am, my mind was whirling with the excitement of our next year's trip, which is going to be held at Nicole's and hopefully we'll get to meet more of our online friends. As I wiped my tears away at having to say goodbye, I held onto the fact, that our next pee in pants marathon girl fest is only 11 months away. Thank you for the memories. *Sniff sniff sniff*

RSS feed for comments on this post.
TrackBack URI
10 Responses to "My heart is full, my abs hurt and I'm crying….."
So glad you ladies had a wonderful time…..sounds like a crazy time, maybe next year;)

Sounds like a hell of a weekend!

What a large time you all had! Cool beans!

Sound like a load of shits and giggles… without the shits that is (I took care of that part). Nothing like a gaggle of friends to brighten the soul.

This sounds like such a nice time… I'm dying to find friends like yours… ) Not sure if this is part of HNT… but if it is it is a more than Happy one… )
Continue your nice time… )

I had the best time! It was hard to leave! I can't wait to have the get together next year. Lechelle you are an awesome person, and a wonderful friend and your family is so nice and fun. Hats off to you gf! Thank you for your hospitality and your friendship.
Love you and miss you already!
Nicole

I had such a blast, and the pictures are priceless. You all are amazing friends and I can't wait to do it all over again next year! WOOT!
Love you lots,
Karen

I had an awesome time too ladies…
I can't wait to see you all again…
It was alot of fun, laughs, giggles and more giggles..
Hugs
~A

omg those are hilarious pics and to think the whole time you gals were having this fun I was working… the bastards!

wahhhhh!


best regards, nice info
»